ReStore of Isabella County

201 E. Pickard St.
Mt. Pleasant, MI 48858
Tuesday – Friday: 10 am – 6 pm
Saturday: 10 am – 3 pm
Sunday & Monday: Closed
201 E. Pickard St.
Mt. Pleasant, MI 48858
Tuesday – Friday: 10 am – 6 pm
Saturday: 10 am – 3 pm
Sunday & Monday: Closed
Habitat for Humanity of Isabella County gladly accepts donations of all sorts. Donations of your gently used items helps us to fulfill the vision of Creating a World where everyone has a decent place to live.
Accepted Donations Include:
Schedule a Donation Pick-Up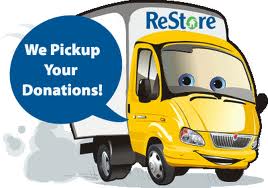 We will gladly come pick up your unwanted materials with our pick-up truck. To schedule an appointment, please call (989) 773-0043.
All items being scheduled as a donation pickup MUST be outside of the home on the day of pickup, either inside a garage or outside on the same level as the driveway.
Acceptance of donations are at the discretion of the driver at time of pickup. Did you know? The ReStore will take your appliance donation, working or non-working!